Progress so far!
Victorian Rainforest Network has put considerable effort into Government process since 2004 to get outcomes for East Gippsland rainforests. As a key stakeholder group, VRN has directly influenced the Victorian Government 2006 East Gippsland policies by a combination of lobby and input into govermnment processes.
VRN has contributed submissions to key Government reviews. These include::
Code of Forest Practices for Timber Harvesting review.
(see submission)


Steedman and Gooding East Gippsland review.


Rainforest Action Statement as a part of the Fauna and Fauna Guarantee Act. (see submission)
The Code of Forest Practices review process recognised that the Core Rainforest Sites of National Significance(RSOS) should be protect from logging. VRN issued a press release welcoming the Code review decision as a step in the right direction.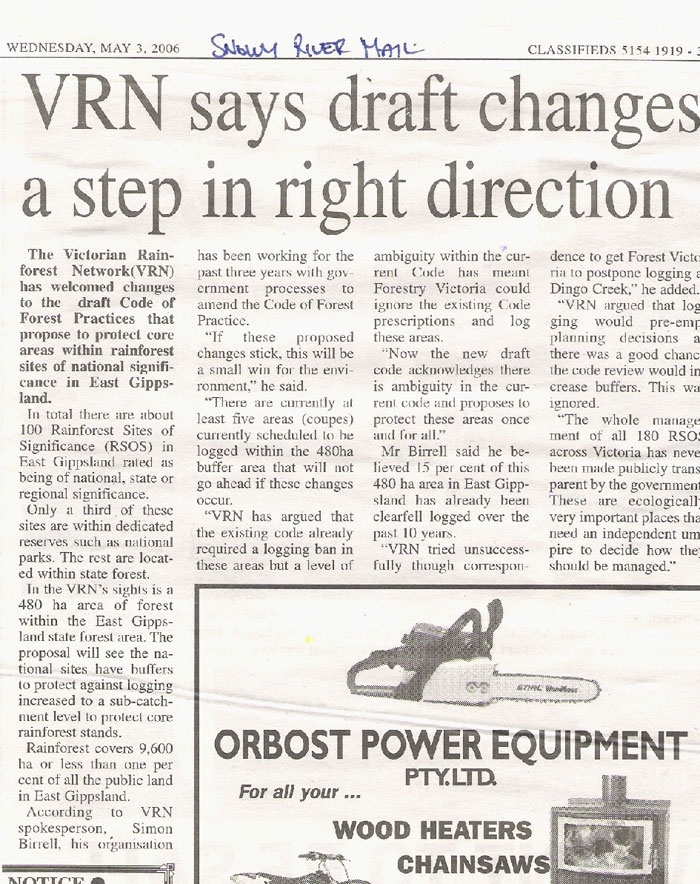 Snow River Mail. 3 May 2006. (Click to enlarge)
The Code Review outcome helped inform the Steedman and Gooding process, who then recommended that National RSOS be included as icon areas(see list) and to be added to the National Park system.
Finally in July 2009, the Rainforest Action Statement was released with increased levels of protection for rainforest. (Note: Legislated protection)
The protection of more rainforest in East Gippsland has been based on scientifically sound justifications that have gone through many review processes. VRN input into these processes was instrumental in getting rainforest issues included as a part of the ALP 2006 East Gippsland forset policy.
It has been a very long paper trail and much good faith that a number of forest activists have undertaken, working with the government process rather than confrontation.