Goonmirk Rocks (Site 80)
National Rainforest Site of Significance
General Description
Contains cool temperate mixed forest growing in association with a few rare flora communities such as the East Gippsland Mountane Scrub Cool Temperate Rainforest community.See below
Proposed Code Review subcatchment buffer area
This DSE draft internal working map was provided to VRN to show the approximate sub-catchment buffer area that is cross hatched.
Note: only core areas N1 (as determined by DSE ) are shown on this map and do not necessarily represent the total area covered by the Goonmirk Rocks RSOS.
Logging
The 2004 Timber Release Plan(TRP) has one 10 ha coupe listed as
07-837-505-0003 (at the end of Hammond Road) being available for clearfell logging within the proposed sub-catchment buffer area.
There may be some debate with forestry over how much of this coupe falls within the sub-catchment area that can be logged.
The coupe at the Goonmirk rocks site has pristine Old Growth Wet Forest dominated by giant Errinundra Shining Gums. The forest understorey here is comprised of mature stands of mountain plum pine, a key indicator species for the very rare East Gippsland Mountane Scrub Cool Temperate Rainforest community.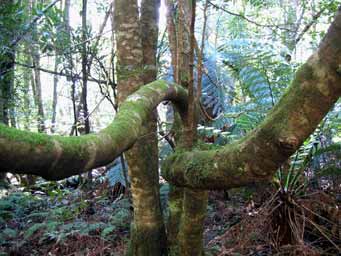 The extremely rare Mountain Plum Pine (pictured above ) occurs within the proposed logging coupe.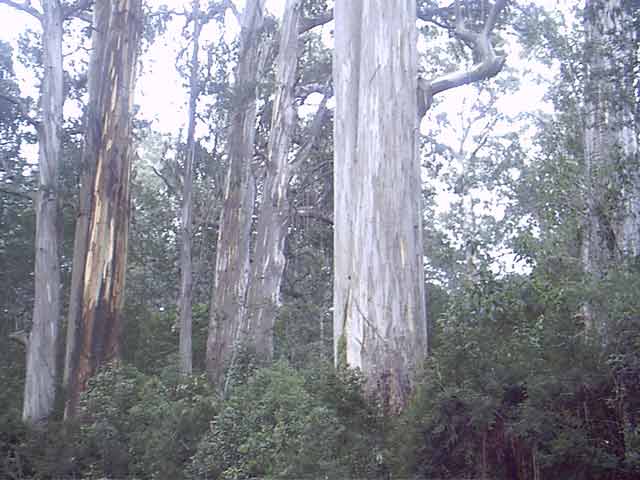 This stand of rare Errinundra Shining Gum (Average height 46-51m-SFRI) may be logged.